IN THIS EDITION
New Dates for courses 2014 Announced!
2014
Melbourne 3-Day Career Coaching Counselling & Assessment Course 22-24 October 2014
Sydney 3-Day Career Coaching Counselling & Assessment Course 9-11 September 2014
Adelaide 3-Day Career Coaching Counselling & Assessment Course 15-17 July 2014
Perth May 3-Day Career Coaching Counselling & Assessment Course 18-20 November 2014
2015
Brisbane 3-Day Career Coaching Counselling & Assessment Course 18-20 March 2015
Free Access to Webinars 1 - 4 of the 10 webinar series Coaching with the Chaos Theory of Careers
These webinars are part of a series of 10 1-hour webinars. They provide an introduction to this radical new approach for coaching clients undergoing change. Presented by the co-originator and co-author of the Chaos Theory of Careers, Prof Jim Bright takes you through the ideas behind the framework. Originally broadcast through mid-to-late 2012, these are the recordings of the original webinar series and contain questions and comments from the attendees from USA, Canada, UK, and Australia.
Webinars come with handout notes and some other resources.
1 Coaching with the Chaos Theory of Careers: complexity, change and chance - An introduction to a radical new framework for understanding the nature of change and how to help clients in transition
2 Using the Exploring Reality Chaos Checklist to validate client's coping with change - This freeresource hosted online by Bright and Associates, is being used by 1000s of clients around the world to appreciate how they are already thriving on change and chaos.You will learn how to use the results of this free test in your coaching and counselling practice.
3 Using the Attractors to understand coachee thinking and overcome limitations. You will learn about the four different Attractors and how they influence your client's thinking.You will learn how to identify the different Attractors at work within your client and how best to work with clients using the different Attractors.
4 Coaching clients to see fractal patterns in their actions. Taking Fractal action for authentic livingYou will learn how to interpret the complex patterns in your client's life and circumstances and how to encourage action that is spontaneous and also authentic.
Webinar 1 - Coaching with the Chaos Theory of Careers: complexity, change and chance
Webinar 2 - How to use the Exploring Chaos Reality Checklist in Coaching for Change using Chaos
Webinar 3 – Coaching with the Chaos Theory of Careers: Using the Attractors
Webinar 4 – Coaching clients to see fractal patterns in their actions.
The complete series of 10 webinars introduces 5 new powerful tools to use in your coaching practice: 1 checklist, 2 psychometric on-line inventories, and 2 card sorts. In addition he shows you how you can use narrative powerfully with this method and introduces a new model of creativity that provides a model for working with clients.
Our New book Brilliant Graduate CV with Jo Earl and David Winter
Our new book is out now. Completely re-written for new graduates, up to date research and advice with extensive coverage of social media.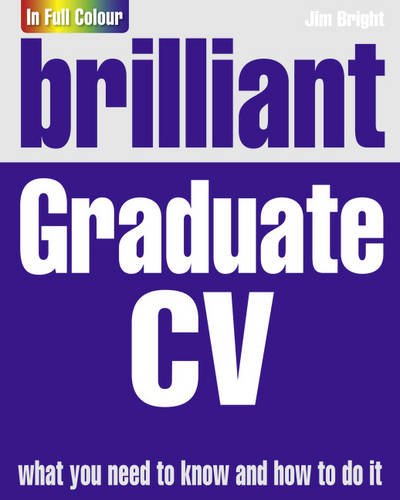 Careers Resources at Brightcareers Youtube channel
Brightcareers Youtube channel is where we post occasional videos related to careers and the Chaos Theory of Careers. We hope you find it useful for your work.
A lot of people ask for a resource to explain the Chaos Theory of Careers in (relatively!) succinct terms. Here are a couple of resources to help you with that. The first is an interview done with Cindy Funk, Head of The Center for Student Professional Development at Vanderbilt University in Nashville. You can watch it here
The second is a link to a short film on my Youtube channel BrightCareers called Where will you be? It has had over 18,000 views which is not bad for a careers-related film! You can find the film on the channel BrightCareers
Recent Columns in the Melbourne Age and Sydney Morning Herald
I cast a critical eye over Chris Lilley's new show Jonah from a Career Development perspective. What impressed was a man getting perilously close to being way too old to play a school student, bringing to mind a particularly unfunny double act, the Krankies, who specialised in the "joke" of an adult dressing as a child. As I am pretty sure that Lilley is not aiming at self-parody, this is a career problem if he continues to want to portray adolescents.
In praise of raising the retirement age to 70 and the impact upon bowls clubs. Bowling greens will have more security than a gun-toting athlete living in a gated community. This will serve to keep out the large hordes of have-not pensioners who will be left to congregate on street corners and in skateboard parks. Monty Python were prescient in their Hell's Grannies sketch, as these elderly disenfranchised but still physically healthy specimens will have no outlet for their pent-up energies. Muggings and other petty crime will increase.
How caffeine can fend off corruption Apparently in the next James Bond film, Q (played by George Clooney) issues Bond with a Nespresso machine and more pods than a glutinous child takes into a matinee at a multiplex cinema. Bond's Aston Martin is programmed to stop at every driver reviver, where our hero tops up on volunteer coffee and Kit Kats. By the end of the movie Bond is unable to sleep and has gained 30 kilograms.
Why UK Education Minister Michael Gove has the wrong idea about career development. When was the last time you used a differential equation or integrated anything? I thought not. So let's cut out the middle men here - we don't need these woolly-jumpered, beardy maths teachers with their scientific calculators; we need real-life role models to teach us the rudiments. Who better than Wayne Swann to teach our kids how to run a budget, and I nominate Craig Thompson to run sessions on credit card use.
Some Highlights from 2013
My Ten Rules of Career Success. Embracing uncertainty is a sound job strategy, Jim Bright writes. If you are thinking about your career, here are 10 rules derived from the Chaos Theory of Careers that might help you.Change is inevitable (except from a vending machine)
Why pets at work are a good idea unless they are flat packed. Pets can be a great help in our working life, Jim Bright writes. This week I was feeling somewhat flat; however, not quite a flat as our cat Missy.
Why learning to compromise is a key to career success.The art of compromise is the key to success in your work and personal life, writes Jim Bright. Are you in the perfect job? Have you found the exactly right role?
How a small number of people have a disproportionate effect on your career. Learn to tell your Lucifers from your Eellogofusciouhipoppokunuriouses, writes Jim Bright. All work is social. We produce products for other people and we serve other people.
Why career development is vital to economies Helping people realise their potential at work has far-reaching benefits, writes Jim Bright. Jobs! Jobs! Jobs! It seems to be all I have heard during the election campaign.
Here are some recent Career Development Columns from Jim Bright.
Some blog highlights
The Day my Dog became a Triangle Dogs are not triangles. Any fool knows this. They don't even bother assessing this knowledge when they issue you with a dog license. So it was very awkward indeed when my dog became a triangle. For a start her name is Chloe. This is less embarrassing to call out at our local dog park compared to "Pythagoras", even if people called Chloe do get offended when I point out it is a dog's name. Equilateral would be a very inappropriate name for a Welsh Springer Spaniel. Scalene sounds like a skin disease or a song by Dolly Parton. Isosceles, well now we are getting just a tad pretentious.
22 Effective Coaching questions: Pixar's 22 rules of story-telling applied to coaching Coaching can benefit from animation company Pixar and their rules of story telling. Pixar has 22 rules of story telling, according to David Price, the author of Pixar Touch – see his blog here. He gleaned these rules from the tweets of Emma Coats, a Pixar storyboard artist. I think they can be usefully applied in coaching. See what you think.
How do people react to change? Some facts and figures So how much do we know about people's reactions to change? I've been collecting reactions to change of individuals in my coaching and research for several years. The data below come from over 600 responses to my online tests (except where indicated) – the Change Perception Index and the Luck Readiness Index.
These stats about change – may surprise you!
Workshops
There are two great opportunities to attend PD events before the end of the year in Perth and Sydney.
Career Coaching, Counselling & Assessment 3-day certification course
Courses in Brisbane, Sydney,Melbourne, Adelaide and Perth
Career Coaching and Career Conversations
Jim works with Govt and Corporate Clients in Sydney and Melbourne, offering career coaching and careeer conversation services in relation to career development, redeployment, outplacement and performance management. He also works with individuals. Please enquire for more details
Career Conferences worth attending
National Career Development Association Conference Long Beach, California, June 19-21 2014
International Association for Educational and Vocational Guidance Conferences Quebec, Canada June 4 - 6 2014, Tsukuba, Japan September 18-21 2015
CANSW Conference 24th Sydney, October 2014
National Association of Graduate Careers Advisory Services Annual Conference, Ahead of the Curve, Wollongong, NSW, Nov 30- Dec 3 2014